Year after year, Ohioan's  anticipate the beginning of Fall and the slightly cool evening temperatures that accompany.  Windows begin to open in the late afternoons, and the idea of "heating up the kitchen again" seems like a delicious idea.  
As the trees begin changing color, The "Friday Night Lights" shine and the sights of combines harvesting grain crops appear,  cooler temperatures do motivate us to begin thinking "holidays" and entertaining our friends.

This season consider hosting A Harvest Dinner at Home…….Simply!

Here's a few ideas on how to do that and some delicious recipes to pull it all together:
Keep it small.  Its you, your plus one, and up to six others to enjoy the evening. 
Dress the table up and invite your guests to dress casual in denim and plaids. Pumpkins are a favorite vehicle for fresh cut flowers as are glass cubes filled with acorns and sunflowers.  Pick up a few sheets of brown butcher paper at your favorite craft store and utilize these as your table covering. Tie the plaid theme back in with simple linen plaid napkins.
Dim the lights and light the candles…….Be cautious of the seasons scented candles on the dining table.  Unscented and Simple is elegant!
Set the tone……Hotel Costes Radio provides the perfect mix of upbeat dinner party tunes.
Go ahead, you can say it…….. ge-wurz-tra-mi-ner
That's right, Gewürztraminer, the perfect greet wine for your guests. This delicious white wine plays very nicely with autumn flavors.  It's full texture, low acidity, and apricot, ginger and cinnamon flavors are sure to please.

Put it all out there……sure, serving and clearing three courses looks impressive but it also pulls you away from your guests, and they have accepted your invitation this evening to spend time with YOU!
Have a couple noshes on the dining table before guests even sit. Think Charcuterie, delicious meats, cheeses, pickled vegetables and some raisin walnut bread with sweet butter. The remainder of the dinner can be placed out as soon guests take there seats.
Here's a couple of suggestions of delicious food to look forward to.

Butternut Squash Bouchons
Spicy Chicken Meatballs with Savoy Cabbage and Apples
Pumpkin Pie – of course!!
No doubt having family at home is ideal, but for those looking to host a large group up to 160 people, please contact us to reserve your big day.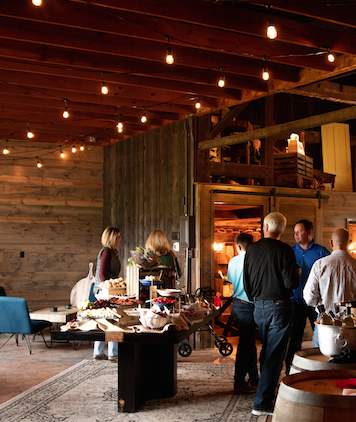 View rates and more info on our Events Page

We hope you have a wonderful rest of your summer as we start to see the sun go down earlier in the fall. Autumn is such a wonderful time in Ohio and look forward to more seasonal ideas to prepare around your home.